Discover Peacehaven's parks and green spaces with a Meander along the Greenwich Meridian Line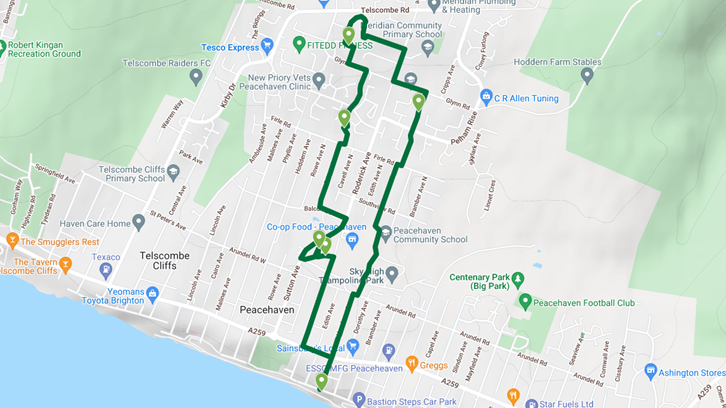 Click on the map for a closer look at the route

What is the Greenwich Meridian?
The Greenwich Meridian Line is the vertical line of longitude that runs through the Royal Observatory at Greenwich and defines the line between the Eastern and Western hemispheres. It is also known as Zero degrees longitude and is also the Prime Meridian for the world. The magnificent monument to George V marks the place where the Greenwich Meridian leaves British soil.
Why this walk?
By following this walk you will find a surprising number of green and secluded parks that you may not have come across before. The Jubilee Gym is angled towards adults but the Firle Road Play Area is for under tens only. The Oval, of course, is for all ages and just the place to enjoy a picnic. This is a walk for the whole family.
How do I find my way?
The directions are set out to follow the numbers on the map, starting at Number 1, the Meridian Monument.
How far and how long?
The whole walk is just under three miles long and is along pavements or proper paths apart from in The
Oval where most of the paths are mown grass. This is not a walk to be rushed, so take your time.
The Meridian Monument
Erected in 1936 by public subscription it was originally intended to commemorate the Silver Jubilee of King George V but as he died before it was put up it became his memorial. When the monument was built it was well away from the edge of the cliff, but by the 1960s coastal erosion lead to it being moved 30 feet north, and later in 1981 it was moved another 24 feet away from the cliff edge to its present position.
The War Memorial
The memorial was built in 2012 to replace an older one. The memorial was designed to represent the sea with the chalk cliffs and the Downs behind.
Jubilee Gym
No need to overdo it, a gentle work out will be fine for starters.
Firle Road Play Area
This play area has a comprehensive range of equipment suitable for the youngest children to the active ten-year olds.
Peacehaven Community Garden
There are regular work parties on Saturday mornings where you can learn how to grow your own vegetables and generally help out with the maintenance of the garden.
The Oval
Home to badgers and a perfect place to chill out and have a picnic.
Mountain Bike Track
Just the place for active youngsters to let off steam.
Getting to the start
No. 12 bus from Brighton or Eastbourne. Get off at Roderick Avenue. Bus times at www.buses.co.uk