The Mayor was taken ill with lung cancer during mid 2021. Until Isobel is in remission her Deputy, Cllr. Gloria Hill will represent the council at functions and engagements.
We sincerely, wish Isobel the very best in her fight to overcome her cancer, our thoughts are with her at this difficult time.
If you wish for the Deputy Mayor to visit or attend a special occasion please contact the Civic Officer:- civicandmarketing@peacehaventowncouncil.gov.uk
NHS Day – 5th July 2021
https://www.facebook.com/PeacehavenTownCouncil/videos/292750722536638  (please copy & paste)
Please follow the link. Peacehaven Mayor was interviewed by Seahaven FM presenter Len Fisher.
Armed Forces day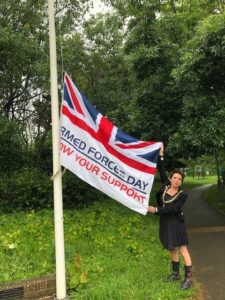 *******************************
Cllr. Isobel Sharkey was voted in as Mayor of Peacehaven at a recent council meeting. Cllr Sharkey will serve a year in office and is very much looking forward to meeting local groups & organisations.
Isobel will be supported by her consort, Brent Jackson. The following charities have been chosen by the Mayor, which she will support during her term:
3. Chichester Diocesan Association for Family Support Work
We hope the charities will work with us in delivering an array of community fundraising events.
Cllr Gloria Hill was voted in as Deputy Mayor.
If you'd like Cllr. Sharkey to attend a function/engagement please contact her Civic Officer, Deborah Donovan with the details via civicandmarketing@peacehaventowncouncil.gov.uk
*********************************************************************************************************************************************
https://www.facebook.com/PeacehavenTownCouncil/videos/157952846214694
The Mayor laying a wreath to mark the death of HRH Prince Philip (please c&p)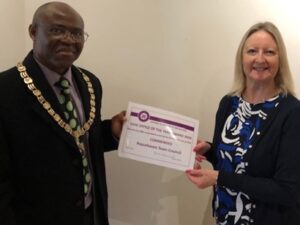 ********************************************************************************************************************************
New Year Message from the Mayor
https://www.facebook.com/PeacehavenTownCouncil/videos/156697786216312
Dear fellow residents
On behalf of Peacehaven Town Council, I would like to send you a message of hope and gratitude as we prepare to celebrate Christmas and start a new year.
In many ways, I would say that 2020 was a year like none before.
Like a thief coming in the night to steal your precious belongings, we experienced in our community the challenges of Covid19.
Within a couple of weeks, this uninvited guest has completely changed the way we live, work and socialise. Sadly, many of us have lost a close relative, a friend or their income. Some have been obliged to self-isolate, to cancel family events or to start working from home.
It has been hard, and I share your pain. As Christmas approaches, we have come to realise that many families can't afford gifts for their children, or enough food to feed them.
But in the middle of this storm, I have witnessed the extraordinary resilience of our community. We have responded to COVID19 with love, kindness and solidarity.
With generosity, you have donated to our Food Bank and Christmas present appeals. With the support of the Sussex Community Development Association (SCDA) and the Lions Club, we have been able to ensure that each child in need receives a Christmas present this year; I also pay tribute to the volunteers who have given up their time and the other local organisations who have provided gifts, meals and hampers too.
This morning the Foodbank Coordinator shared with us that she had a phone call with one of the clients, who has five children and was really struggling. The foodbank offered to deliver Christmas presents for all the children and the client was so overwhelmed that she burst into tears.
"I cannot be more grateful for all the effort the community has put to support me in my time of need", the mum of five said.
Today, I would like to pass on my special thanks to all involved in the COVID-19 response in Peacehaven. You have been fantastic, and we will always remember the extra mile you did, offering your time, resources, skills and knowhow to help others.
As we approach the new year, I am confident that love and kindness will always prevail over darkness and any other challenge we may face.
Merry Christmas and Happy New Year 2021
Claude Cheta
Mayor of Peacehaven
*********************************************************************************************************************************************
The Mayor Cllr Claude Cheta donating boxes of biscuits to Kempton house day centre for their Christmas hampers, ready to distribute to their members.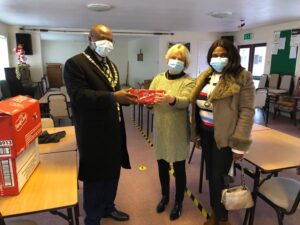 The Mayor has also agreed to deliver meals along with Kempton House on Christmas Eve to families who have registered for meals.
The Mayor has donated a sum of money towards the vegetables which will be provided by Tracey's fruit, veg and fish
.
The Peacehaven Community coming together to help those on their own at Christmas
The Mayor of Peacehaven and Open House Brighton Coast have come forward to support this great incentive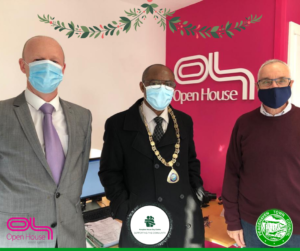 The results have been amazing. With the help from volunteers, Peacehaven Town Council have collected around 183 parcels for children of all ages.
The photo shows the Lions Club van with the parcels on board, The Mayor of Peacehaven Cllr Claude Cheta, Cllr. Dawn Paul co-ordinator, Penny Shimmin (CEO, SCDA), John Cornish, SCDA Board of Trustees Chair, Andy Millward (SCDA), Deborah Donovan PTC Civic Officer, Karen Bray Information Officer and Michael Ripley Senior Caretaker.
We would like to thank everyone who has contributed to this worthwhile cause, certainly 'No child in the Haven's area will go without a Christmas gift.
The Mayor and Open House Estate Agents are also supporting an appeal made by Kempton House Day Centre, who are preparing Christmas Day Meals for just £5 for those who are on their own and for families who may find cooking a Christmas meal difficult. If you live in the Haven's area, please contact Sue Taylor to book on 07821515118

Our Christmas incentive:
?Children's Christmas Gift Box Appeal
?Peacehaven Town Council has launched a new campaign 'No child should go without'. The Christmas gift box appeal includes gifts for all age groups. Donations can be dropped off to Community House between 8.00am – 1.00pm Monday – Friday or a money donation would also be welcome. Once the gift donations have been received we will be asking for volunteers to wrap the gifts ready for distribution via the food bank.
?HOW TO PACK A CHRISTMAS GIFT BOX:
1. find a medium sized box or trainer box and wrap the box and lid separately with Christmas wrapping paper.
Select an age category 2-4, 5-9 or 10-14 and attach the label to the top of your shoebox also mentioning if the gift is for a boy or girl.
2.Fill your giftbox with fun toys, hygiene items, school supplies and other items (A list of ideas can be found below).
3. Please do not seal your giftbox
4️. Drop your giftbox off to Community House, Meridian Centre, Meridian Way, BN10 8BB between 9am-1pm Mon-Fri. If you are shielding or cannot drop your giftbox off in these times due to work commitments please call 01273 585493 and we will arrange for collection of your gift box.
?If you would like to volunteer to help pack or deliver the gift boxes please drop us a message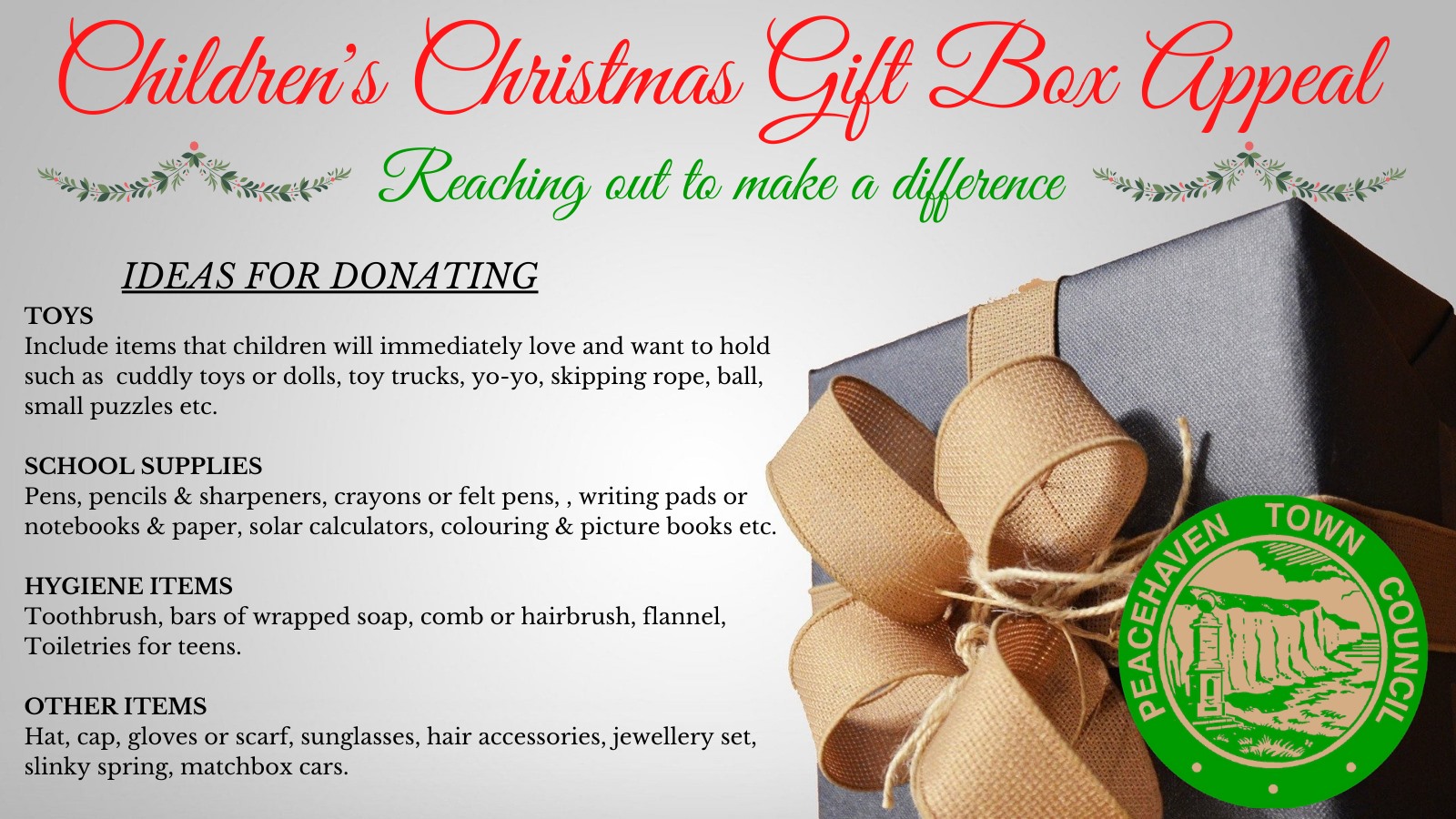 Please support this project if you can, the food bank requests still remain vital. Thank you.
Remembrance Day – 8th November 2020
Since 11am representatives from various organisations, charities and community groups have been paying their respects and laying wreaths at the war memorial in Meridian Park at timed intervals to maintain social distancing.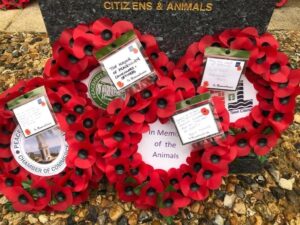 Join me in The FIVE THOUSAND Tin/Jar Challenge for the SCDA FOOD BANK
We are delighted to announce that the challenge raised £465 for the Foodbank. A big thanks to everyone who contributed towards this challenge by either donating items of food or a money contribution.
PRESS RELEASE **
The Mayor of Peacehaven, Cllr. Claude Cheta has launched a campaign asking residents to donate either a tin or jar of food which will be delivered to the Seahaven Food Bank.
Cllr. Cheta has picked this charitable organisation to support whilst in post as Mayor.
Peacehaven Town Council are open for donations every weekday morning at Community House, Meridian Centre; however, we understand that the normal way of life has drastically changed over the past three months and it may be difficult to carry out a shopping trip to the supermarket. Bearing this in mind, we have also set up a GoFundMe so you can donate to the Mayor's appeal without having to leave the house.
Either way it will help this vital cause. The Seahaven Foodbank covers the Havens which includes Peacehaven clients.
Seahaven Foodbank, also known as Newhaven Foodbank, provides food parcels to families and individuals in Newhaven, Sussex, and the surrounding areas.
The falloff in food donations caused by the Covid-19 crisis and the jump in demand that we have seen for the service has meant that the food bank has had to start buying food and other essential products. This, together with the need to move to a delivery model and the widening of the geographical area served, has increased costs significantly. A financial donation will enable supplies to be purchased and distributed to those who are struggling and vulnerable. A food parcel for an individual for one-week costs £14, or £18 with toiletries.
All donations to the Mayor's GoFuneMe page on Facebook will go directly to the food bank.
More information about Sussex Community Development Association: SCDA works across East Sussex delivering community based services aimed at addressing the needs of the most vulnerable in the community, including Young people's activities, youth club, specialist counselling Info and Advice Hub in Newhaven Seahaven Food Bank Counselling services Support for survivors of suicide Safe from Harm Community activities, courses and events Employability projects Denton Island Nursery Family and children's activities and events for BAME communities
See www.sussexcommunity.org.uk for more information.
***ENDS***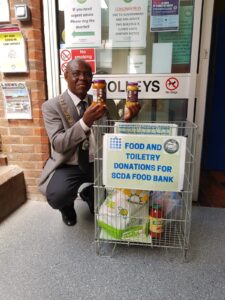 ************************************
CAR BOOT SALES ARE BACK!
If you wish to book to organise this event please contact 01283 585493.
I will be holding the first Car Boot on 1st August at the Dell from 8.00am to 2.00pm
Sellers can turn up from 8.00am and buyers 9.00am NO queuing on the roundabout please!
Sale ends at 2.00pm
These events will run throughout August & September, please contact 01273 585493 to show your interest if you wish to organise a future car boot sale. We are currently running a special discounted 'welcome back' hire charge for these particular events.
The event should be fully COVID-19 compliant sellers and buyers should follow the Government's guidelines.
Correct pitch money accepted only no change will be given. All rubbish to be taken away at the end of the event.
***************************************
During our most recent council meeting, it was resolved that I remain your Mayor as we continue our individual and collective battle against Covid19.
First, I would like to thank you for your valuable support during the initial term that ended this month of May 2020.
I think we had a good year together. With your support, I did my best to connect with the community, meet
new people and listen to your concerns. I hope I was able to bring some smile to faces or address these
concerns. Together we fundraised for four charities: Chillax, Kempton House Day Centre, Know Dementia
and CTLA.
I am delighted to announce that the sum of £12,632.82 was raised during my Mayoral year. It has been decided to split £10,000 of that sum to each charity, leaving £2632.82 in the charity fund. As I remain Mayor for the time being, I will continue to support residents, groups and organisations.
I have therefore, decided with immediate effect to donate £1,000 to the Seahaven Food Bank. This will leave a foundation sum of £1,632.82 to start this year's fundraising for my chosen charity and I am pleased to announce this will be the Seahaven Food Bank. Please help me support the Seahaven Food Bank and ensure that no one is left behind in our battle against COVID19. No one from Peacehaven should go to bed hungry.
I hope that you found my weekly broadcasts of benefit. I will continue to publish the videos as a way of supporting our residents.
**********************************
Take extra care of yourself and be kind to others.
Dear residents,
Within a couple of weeks, the threat of Coronavirus has completely changed the way we live work and socialise in Peacehaven. So many are now working from home and with increased exposure to media, fear has spread very quickly, and we are all genuinely concerned.
At Peacehaven Town Council we are following all advice made by the Government to keep our staff, councillors and community members safe.
Despite the fear, I'd like to say that it is in time of great challenges that we see kindness, love and solidarity at their best in the community. In the shopping centre yesterday, someone I did not know helped me carry my groceries. I received a message from a neighbour offering to help any elderly who needs food, medication or support with shopping.  This filled my heart with hope and reassured me that we will never be alone.
With so many people already lonely called to self-isolate, I am now confident that our collective effort will overcome today's challenges in Peacehaven. Here are some simple steps we can take to strengthen our community:
Think about others and be kind to everyone.
Reach out to your neighbour, friends and relatives and offer to help.
Stay informed and follow Government Guidance.
Support the most vulnerable members of the community
Share accurate information and advice.
Yes, together we will prevail over Coronavirus.
Take extra care of yourself and be kind to others.
Claude Cheta,
Your Mayor 
*************************************
The Role of the Mayor
The Mayor and, in his/her absence, the Deputy Mayor will have the following responsibilities: 
To chair council meetings;
To focus his/her activities on the communities of the town and, by focusing on the council's priorities, strengthen its links between those local communities and the council;
To act as an enabler and ambassador by arranging meetings between the council and other parties for the benefit of the town, coordinated for them by the Civic & Marketing Officer.
The Mayor may call an extraordinary meeting of the council, subject to provisions in the council's standing orders. If the Mayor fails or refuses to call an extraordinary meeting within 7 days after a request signed by 2 members of the Council, those 2 members may call an extraordinary meeting.
The Deputy Mayor only has a civic and legal status in the absence of the Mayor. It follows that invitations to a function should not be sent to (or solicited by) a Deputy Mayor. The Deputy Mayor should not attend functions in his/her own right but only when deputising for the Mayor. The Deputy Mayor does not wear his/her chain of office when the Mayor is attending the same function.
All invitations should be sent for consideration to the Mayor as First Citizen (via the Civic & Marketing Officer). If the Mayor cannot attend, it may be appropriate to pass on the invitation to the Deputy Mayor, at the discretion of the Civic and Marketing Officer.
If you would like to get in touch with the Mayor to arrange a visit or for him to attend an engagement please contact: Deborah Donovan, Civic Officer civicandmarketing@peacehaventowncouncil.gov.uk
The Chain of Office
The chain of office was designed and made by a local company (Studio Crafts) in 2003. Each of the links has an image of the Meridian Monument (also on the Town's logo) engraved on it and, therefore, the chain of office is a unique piece of regalia.
The Mayor's Charities
If the Mayor decides they wish to support a charity and/or local projects during their term of office, they should ensure that the charity is non-political, non-discriminatory and should benefit residents of the town. Monies must not be donated to profit making businesses established for that purpose.
Cllr. Cheta is currently supporting the following charity:-
THE SEAHAVEN FOOD BANK
The Mayor's Handbook